A beautiful and free stock photo of potato shoots in front of a white background.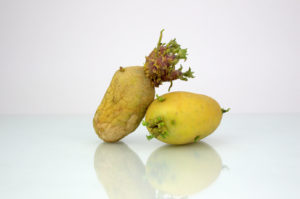 You can use the links below to download a copy of this free stock photo and use it in your own projects. If you use this image please don't forget to include a link back to our site - see the license information below for more details.
Download
Download Full Photo (1600 x 1062px)
To download the full size version of our stock photos you need to be a registered member. Please login here or register for a free account here. It just takes a minute.
License Information
All our photos on this site are licensed under the creative commons license CC BY 4.0. This means you are free to use our images in any way you want as well as for any purpose (also in commercial projects) with just one requirement: You need to give us credit for it by linking to this page. For more details see here for a nice overview over the license and here for the full license text.
Related Images
Not the right potato shoots photo for your project? Try here to find related images: